"Do you, as a woman, want to vote? Some prominent women of America answer the question," Ladies Home Journal, 1911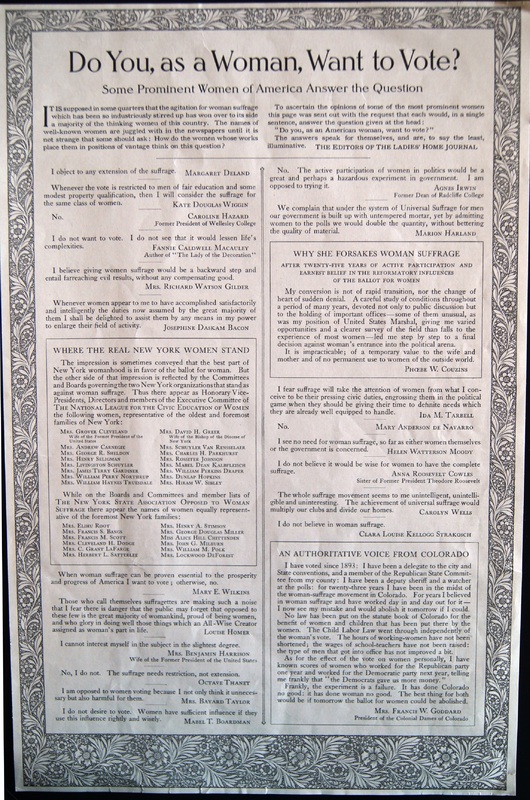 Dublin Core
Title
"Do you, as a woman, want to vote? Some prominent women of America answer the question," Ladies Home Journal, 1911
Description
Published in the Ladies' Home Journal in 1911, this survey of prominent women of the time indicates that the women interviewed were largely opposed to woman suffrage. The magazine was on record in opposition to women's right to vote.
Women quoted include former First Lady Mrs. Benjamin Harrison, wife of President Harrison; Mrs. Francis W. Goodard, President of the Colonial Dames of Colorado; Anna Roosevelt Cowles, sister of President Teddy Roosevelt, cousin to President Franklin D. Roosevelt and distant cousin to First Lady Eleanor Roosevelt; and Agnes Irwin, former Dean of Radcliffe College in Cambridge, MA.
The collection includes two copies of this publication.
Creator
Ladies' Home Journal
Source
Ann Lewis Women's Suffrage Collection
https://lewissuffragecollection.omeka.net/items/show/1907
Citation
Ladies' Home Journal, ""Do you, as a woman, want to vote? Some prominent women of America answer the question," Ladies Home Journal, 1911,"
Suffrage at Simmons
, accessed September 25, 2022,
https://beatleyweb.simmons.edu/suffrage/items/show/31
.