Blanche Castleman posed near North Hall steps 1917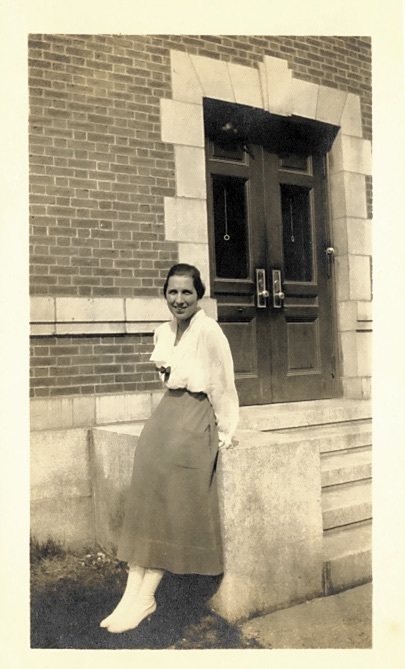 Dublin Core
Title
Blanche Castleman posed near North Hall steps 1917
Description
Born in 1897 in Rochester, New York, Blanche Castleman '19 studied Library Science at Simmons, where she was a member of the Bulletin Board Committee, the Dormitory Council, and the Dramatics Society. She later became a librarian at Jefferson Junior High School in Rochester, and married teacher Clarence James Link in 1922; the couple had one daughter, Barbara, born in 1925. Blanche Castleman died in 1980 and is buried in Rochester.

While at Simmons, Castleman attended the Boston Suffrage March in 1915 and kept a fragment of a red anti-suffrage streamer in her scrapbook as a memento. Though no evidence remains to confirm either her support of or opposition to the women's suffrage cause, her attendance at the march nevertheless suggests that Castleman was one of many politically engaged Simmons students during the 1910s.
Publisher
Simmons University Archives
Citation
"Blanche Castleman posed near North Hall steps 1917,"
Suffrage at Simmons
, accessed September 25, 2022,
https://beatleyweb.simmons.edu/suffrage/items/show/49
.