Dorothy C. Boulding Ferebee '20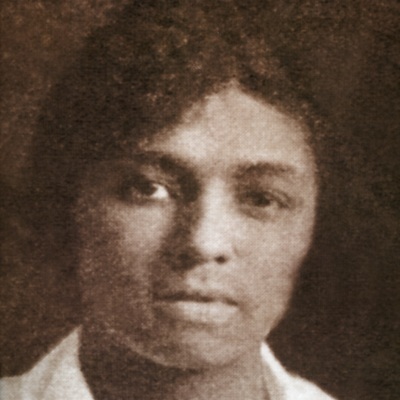 Dublin Core
Title
Dorothy C. Boulding Ferebee '20
Description
Dorothy Celeste Boulding was born in Norfolk, Virginia around 1898 to Benjamin and Florence Ruffin Boulding. She spent much of her childhood in Boston, living with an aunt while her mother recovered from an illness. Boulding graduated from the Girls' High School in 1915, then spent a year taking additional courses in order to prepare for college. She enrolled at Simmons in 1916, studying Medical Secretarial Services. She was known among her classmates for both academic excellence and athletic skill, playing on the basketball, hockey, and track teams and graduating with honors in 1920.

Inspired by encouragement from her Simmons professors, Boulding went on to attend Tufts Medical School, again graduating near the top of her class in 1924. Despite her academic accomplishments, however, internship opportunities for Black women doctors were scarce in Boston, so she moved to Washington, D.C. and found a position at Freedmen's Hospital, the teaching hospital for Howard University's medical school. Here, Boulding developed her interest in obstetrics, earning appointments as an obstetrical clinician in 1927 and women's physician in 1929. Boulding remained involved with the Howard Medical School for the rest of her career, returning as a professor of obstetrics even after she opened her own practice, and, later, serving as Director of the University Health Service.

During her time as an obstetric intern at Howard, Boulding witnessed firsthand the racial and class inequalities in Washington's Black neighborhoods. Outraged by the lack of childcare options available to working mothers, she founded the South East Settlement House in 1929 in order to provide daycare and recreational programs for the Black children who were barred from the nearby white settlement houses. This early interest in racial justice was only one chapter in Boulding's lifelong involvement with civil rights activism, reflected in an anti-lynching essay she wrote as an undergraduate and her later participation in a voter registration drive in Alabama in 1963.

In 1930, Boulding married Claude Ferebee, a dentist and fellow Howard instructor; she gave birth to twins the following year. Though Dorothy's husband was initially supportive of her career, he grew increasingly envious of her success during the 1930s. Beginning in 1933, she spent her summers serving as medical director of the Mississippi Health Project's mobile health clinic initiative, traveling to rural communities with a team of Black women volunteers to offer free medical services and public health education to Black tenant farmers and their families. Though World War II put an end to the program in 1941, Ferebee's work in Mississippi won her national renown as an advocate for racial equality in healthcare. Unable to convince her to give up her career, Claude moved to New York in the early 1940s, and, following the death of their daughter in 1950, the couple divorced. Dorothy continued teaching at Howard and running a medical practice until her retirement in 1968. During the 1950s and 1960s, she also served as a medical consultant to the Peace Corps and the Department of State, traveling throughout Europe, Africa, and the Middle East to work with mothers and children and give lectures on public health.

In the midst of her medical career, Ferebee was active in a staggering number of social, political, and scientific organizations, including the Pan-American Medical Women's Alliance, UNICEF, and the Black sorority Alpha Kappa Alpha, among many others. At various times, she served on the boards of the Girl Scouts of America, the YWCA, the American Council to Improve Our Neighborhoods (ACTION), and the National Welfare Assembly. Throughout her life, she remained a strong advocate for Black women, and was President of the National Council for Negro Women (1949-1953), Chairperson of the D.C. Commission on the Status of Women (1971-1974), and head of Washington's International Women's Year initiative (1975), as well as the founder of American University's Women's Institute. Though no evidence remains of her suffrage activism in the 1920s, Ferebee's commitment to women's rights is visible in her later support of the Equal Rights Amendment and her advocacy for birth control and abortion rights, as well as her membership in the League of Women Voters. She also maintained a lifelong connection to Simmons, becoming the first recipient of the Alumnae Achievement award in 1959 and serving on the Board of Trustees in the 1970s.

Ferebee died in 1980 and is remembered as a civil rights activist, a public health advocate, and a pioneer for Black women in medicine. A Simmons scholarship was set up in her name in 1988.
Publisher
Simmons University Archives
Citation
Simmons College, "Dorothy C. Boulding Ferebee '20,"
Suffrage at Simmons
, accessed September 25, 2022,
https://beatleyweb.simmons.edu/suffrage/items/show/54
.