Melnea A. (Jones) Cass
Honorary Degree Recipient, 1971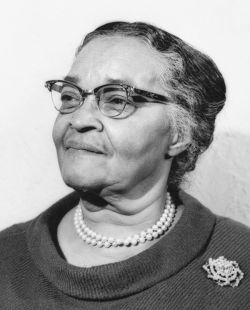 Dublin Core
Title
Melnea A. (Jones) Cass
Honorary Degree Recipient, 1971
Description
Melnea Cass was born Melnea Agnes Jones in Richmond, Virginia, in 1896. Her mother was a domestic worker and her father was a janitor. Her mother died when Melnea was young, and Melnea and her sisters moved to Boston to live with their Aunt Ella. Cass attended the Boston Public Schools until she was in high school, when her aunt, recognizing her niece's academic skill, sent her back to Virginia to attend St. Francis de Sales Convent School, a Catholic school for Black and Native American girls. Cass graduated as valedictorian of her class in 1914.

After graduation, Cass returned to Boston, hoping to find work as a salesgirl. She soon found, however, that few of the city's department stores hired Black employees, and was forced to take a job as a domestic worker instead. In 1917, she married Marshall Cass, a soldier, and gave birth to the first of their three children while her husband was away serving in World War I.

When the war was over, the Cass family moved to Roxbury and Melnea embarked on what would become a lifetime of civil rights work and other political activism. In 1920, after the passage of the Nineteenth Amendment, Cass canvassed in her Roxbury neighborhood, registering Black women to vote for the first time. Around this time, she also joined the NAACP, attending lectures and drawing inspiration from the writings and speeches of civil rights activist William Monroe Trotter.

Cass's involvement in the NAACP prompted her to work against racism in Boston, attending protests calling for equal employment opportunities in the retail and medical fields. She also worked as a secretary for the Northeastern Region of the National Association of Colored Women's Clubs and helped form both the Boston chapter of the Brotherhood of Sleeping Car Porters and Freedom House, a community center that worked to help Black Bostonians. From 1962 to 1964, Cass served as president of the Boston branch of the NAACP, persuading the city to hold annual Crispus Attucks and Frederick Douglass commemorations and overseeing early protests against the Boston School Committee's segregation policy. She remained on the board of the NAACP after her tenure as president and was involved in the filing of the lawsuit that led to court-ordered busing in Boston in the 1970s.

From the 1930s, Cass became known in Boston for her community organizing work, a reputation that earned her the nickname "the First Lady of Roxbury." During her long career as an activist, she volunteered at the Robert Gould Shaw settlement house, joined the Harriet Tubman Mothers' Club and the Sojourner Truth Club, and led efforts to establish a local kindergarten for Black children. In 1950 she was appointed a charter member of Action for Boston Community Development (ABCD), an organization that assisted residents who had been displaced by urban renewal efforts. She also served as president of the Women's Service Club in the 1960s, leading a job training program for recent immigrants, and was Chair of the Massachusetts Advisory Committee for the Elderly from 1975 to 1976.

During her lifetime, Cass was often honored for contributions to the Boston community, receiving honorary degrees from Northeastern University (1969), Simmons College (1971), and Boston College (1975). In 1966, Boston Mayor John Volpe declared May 22 Melnea Cass Day in honor of her seventieth birthday. The city also honored her as a "Grand Bostonian" at a ceremonial dinner in 1977.

Cass died in 1978 and is buried in Roslindale. Melnea Cass Boulevard in Boston was named for her in 1981, and several community centers also bear her name.
Source
Melnea A. Cass Papers
Northeastern University Archives and Special Collections
https://archivesspace.library.northeastern.edu/repositories/2/resources/845
Citation
"Melnea A. (Jones) Cass
Honorary Degree Recipient, 1971,"
Suffrage at Simmons
, accessed September 25, 2022,
https://beatleyweb.simmons.edu/suffrage/items/show/91
.