Fanny Baker Ames
Trustee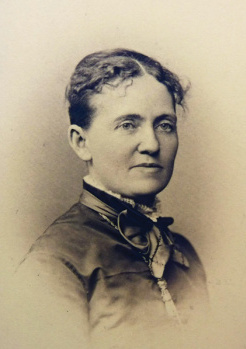 Dublin Core
Title
Fanny Baker Ames
Trustee
Description
Fanny Baker Ames was born Julia Frances Baker in 1840 in Canandaigua, New York to Increase Baker, a coal measurer, and Julia (Canfield) Baker. The family moved to Cincinnati, Ohio when Fanny was a child, and she completed one term at Antioch College in 1857 before spending the next five years teaching in the Cincinnati Public Schools. She left her teaching position during the Civil War to work as a volunteer nurse in military hospitals. In 1863, Baker married Charles Gordon Ames, a newspaper editor and Unitarian minister. The couple had four children, one of whom died in infancy.

Charles's health and employment were precarious, and the family moved frequently so that he could take the fresh air of California or lead congregations in Boston and Pennsylvania. Wherever they went, Charles looked for opportunities to engage in charity work and reform activities, and his enthusiasm for social causes sparked Fanny's own interest in helping others and agitating for women's rights. The couple also shared a commitment to women's suffrage, and in 1869, they attended the founding convention of Lucy Stone's American Woman Suffrage Association (AWSA). The following year, they helped establish California's first state suffrage association, though they soon withdrew when the organization chose to align itself with Susan B. Anthony and Elizabeth Cady Stanton's National Woman Suffrage Association (NWSA) instead of AWSA.

When Ames and her family moved to Philadelphia for the first time in the early 1870s, she devoted her attention to the founding and directing of the Relief Society of Germantown, a charity organization dedicated to aiding Pennsylvania's poor. She was particularly interested in the welfare of poor children, and headed the first board of directors of Philadelphia's Children's Aid Society and Bureau of Information in 1883, traveling the state to place orphaned children in country homes.

By 1888, the Ames family had settled permanently in Boston, though Ames frequently traveled to meetings and events in Philadelphia for much of her life. While in Boston, she held various positions in the Massachusetts and New England Suffrage Associations and served as President of the Boston Equal Suffrage Association for Good Government. She was elected to the Boston School Committee in 1896, serving for three years. Ames was also employed for seven years as the first woman factory inspector in Massachusetts, reporting to the Massachusetts District Police Department of Inspection. Ames traveled through Boston and Worcester, observing factories, laundries, and workshops, and issuing citations to employers who failed to comply with child labor laws and workplace safety standards, especially for women workers. In 1897, however, Ames was forced to resign from her position when representatives from a working women's union protested her reappointment, accusing her of notifying employers of inspection dates before her arrival, overlooking labor law violations, and continuing to accept her full salary while on an extended trip to Europe. Despite these allegations, Ames remained a respected figure in Boston for her reform efforts, and in 1900, she was invited to join the Committee on Organization of the newly founded Simmons College, shaping the College's mission and development in her role as a founding trustee.

In addition to her suffrage and government work, Ames was known as an active clubwoman and reformer in both Philadelphia and Boston. She was a founding member and, later, President, of Philadelphia's New Century Club, a women's reform organization, and was also involved in the Pennsylvania Yearly Meeting of Progressive Friends. In Boston, she attended meetings of the Round Table social reform discussion group and, as a life member of the American Unitarian Association, was active in Boston's Church of the Disciples. Ames also served on the National Council of Women's Committee on Divorce Reform and held membership in the Anti-Imperialist League, a group founded in 1898 to protest the Spanish-American War.

Ames died of a heart complaint and nephritis at her summer home in Yarmouth, Massachusetts in August of 1931. She is buried beside her husband in Minneapolis. Ames was honored with a well-attended memorial service at the Church of the Disciples shortly after her death, and is still remembered for her contributions to social service work. One of her daughters, Alice Ames Winter, carried on her mother's activist spirit, serving as President of the General Federation of Women's Clubs in the 1920s.
Source
Fanny Baker Ames Papers. Schlesinger Library in the History of Women in America, Radcliffe Institute. https://hollisarchives.lib.harvard.edu/repositories/8/resources/8312
Citation
"Fanny Baker Ames
Trustee,"
Suffrage at Simmons
, accessed September 25, 2022,
https://beatleyweb.simmons.edu/suffrage/items/show/94
.