Miriam Birdseye
Faculty, Household Economics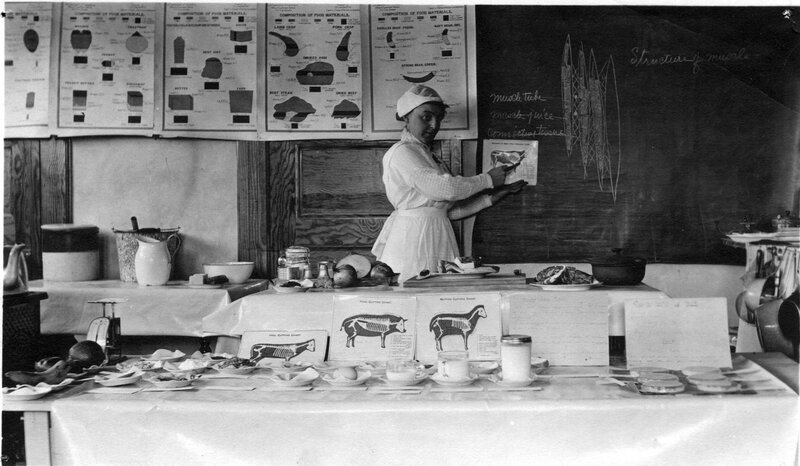 Dublin Core
Title
Miriam Birdseye
Faculty, Household Economics
Description
Miriam Birdseye, pictured here in 1915 giving a lecture on the safe handling of meat, was born in Brooklyn, New York in 1878 to Clarence F. and Ada (Underwood) Birdseye. She was the older sister of Clarence Birdseye II, who later became a well-known frozen food entrepreneur, and the two shared an interest in nutrition and food science. Miriam graduated from the Packer Collegiate Institute in Brooklyn and then earned an A.B. from Smith College in 1901. She later pursued graduate work at Pratt Institute, receiving a diploma in Normal Domestic Science in 1907.

Between her college and graduate work, Birdseye briefly worked for the Department of Health and Economics of the National Lamp Association of Cleveland, where she investigated the working conditions of women employees in the organization's factories. Her work there inspired an interest in women's industrial labor, and she became a member of the National Society for the Promotion of Industrial Education and served as Chairman of the Textile Standardization Committee of the American Home Economics Association.

In 1907, Birdseye began her career as a teacher, working as an instructor in Household Economy at the Hebrew Technical School for Girls in New York City, and then teaching Household Economics at Simmons from 1909 to 1910. She then became Head of the Department of Household Economy at Bates College from 1911 to 1912. Around 1915, Birdseye began lecturing at Cornell University, focusing on nutrition, and particularly on meat.

By 1917, she had moved to Washington, D.C., where she worked as a nutrition specialist at the Extension Service of the Department of Agriculture, a position she held until her retirement in 1946. She traveled throughout the country to conduct research, meet with agricultural workers and state nutritionists, and give lectures to students and clubwomen on topics related to nutrition and cooking. She was a coauthor of the Department of Agriculture's book Adequate Diets for Families with Limited Incomes (1931).

For more than ten years, Birdseye shared her Washington, D.C. home with fellow Extension Service worker Leonie de Sounin, a baroness from Bohemia. The two were avid gardeners, and, in 1941, Birdseye wrote the introduction to de Sounin's book Magic in Herbs. Birdseye was also a suffragist and a Congregationalist, and held membership in the Smith College Alumnae Association, the Zonta Service Club, and the Women's City Club of Washington, D.C.

Birdseye moved to Carmel, California following de Sounin's death in 1942 and her own retirement in 1946. She died from a heart attack in August of 1948, and her funeral was attended by Extension Service workers from across the country.
Creator
Cornell University Library
Citation
Cornell University Library, "Miriam Birdseye
Faculty, Household Economics,"
Suffrage at Simmons
, accessed September 25, 2022,
https://beatleyweb.simmons.edu/suffrage/items/show/5
.