Sara Cone Bryant Borst
Faculty, English and Poetry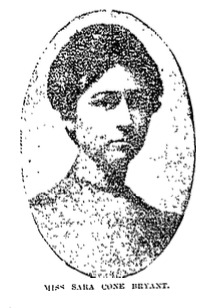 Dublin Core
Title
Sara Cone Bryant Borst
Faculty, English and Poetry
Description
Sara Cone Bryant, pictured here in a 1906 Boston Globe article, was born in Melrose, Massachusetts in 1873 to Dexter and Dorcas Anne (Hancock) Bryant. She received her A.B. in 1895 from Boston University, where she joined the Kappa Kappa Gamma sorority, the Phi Beta Kappa academic honor society, and the school's Philomathean Society. She then traveled to Germany, pursuing graduate studies in German literature, history, and kindergarten pedagogy at the Frau Doctor Hempel Seminary and the American Home School in Berlin.

By 1897, Bryant had returned to the United States, working as a newspaper and magazine writer. In 1904, she took a job as an instructor in English and Poetry at Simmons, a position she held until 1907, when she became a lecturer in storytelling at the nearby Lucy Wheelock Kindergarten. She also gave public lectures, often instructing teachers in the art of storytelling. In addition to her teaching and lecturing work, Bryant wrote stories for children, drawing inspiration for her tales and retellings from Irish, German, Hindu, and Japanese folklore. Among her most popular works were Best Stories to Tell to Children (1912) and Gordon and His Friends (1924). She also wrote several primers for adults about the educational benefits of storytelling, including How to Tell Stories to Children (1905).

Bryant was also an active suffragist, serving as the first Vice President of the College Equal Suffrage League (CESL) from its inception in 1900 and becoming President the following year. She spoke often at suffrage gatherings and rallies held by the Massachusetts and New England Woman Suffrage Associations, the Young Women's Political Club, and other organizations. She was a strong advocate for civic education, and her children's book about American citizenship, I Am an American (1918) encouraged young readers to work toward "a country where women and men together are free and equal."

In 1908, Bryant married Theodore Franz Borst, a horticulturist, though she continued to publish under her unmarried name. The couple had two children, James and Elizabeth, and the family lived at Theodore's Little Tree Farms nursery in Framingham, Massachusetts. In her later years, when Elizabeth was a student at Lasell Seminary for Young Women, Bryant was known among her daughter's classmates for her annual Halloween parties on the family farm.

Bryant died in May of 1956 in her home in Framingham.
Citation
The Boston Globe, "Sara Cone Bryant Borst
Faculty, English and Poetry,"
Suffrage at Simmons
, accessed September 25, 2022,
https://beatleyweb.simmons.edu/suffrage/items/show/84
.